Products for poultry breeding
Nutrient solution for poultry semen: Glutac
Glutac is exclusively distributed by our partner IMV Technologies. Please contact IMV with the reference number 025880 and the product name "Extendil Turkey Media"
Glutac makes artificial insemination of poultry successful.
For artificial insemination in professional animal breeding the semen is treated with a suitable nutrient solution to keep spermatozoa functional and if necessary clear it of impurities. We analyze the metabolism of sperm to develop nutrient solutions for specific breeds.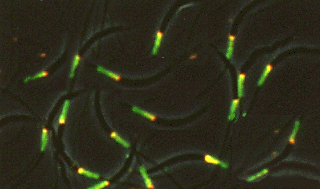 Glutac is our semen extender especially developed for poultry sperm. Glutac has been used successfully for over 10 years in artificial insemination of poultry and chicken. It is free of animal proteins and antibiotics.
The semen extender is colored green. The intensive color promotes homogeneous mixing of semen and extender. Specifications and purity of our products is reviewed carefully. Glutac can be stored for at least 2 years at 4° to 25° C without losing its effectiveness.
Please contact us for further information: physiological.liquids@amplab.de